Posted by AoifeAine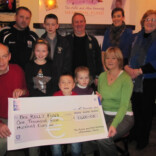 A cheque for €1,400 was recently presented by the Aoife and Aine Kennedy Memorial Fund to Gorey's Ben Kelly and his family, to help with his medical costs. Ben (9) recently received a second kidney transplant, after his first transplant was unsuccessful. Until his latest operation, Ben was on dialysis for most of his life. The money was raised at the recent thank you night...
Read More
Posted by AoifeAine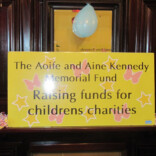 On 8th December the Aoife and Aine Kennedy memorial fund are holding a party night to say thank you for supporting and helping us since the set up of the charity 5yrs ago. The night is being held in "The Lodge", lounge in Carnew and this is shaping up to be a night to remember by all involved. The night kicks off at 9.30pm with mulled wine and mince pies and music with...
Read More
Posted by AoifeAine

The committee here wish to say a huge thank you to Declan and all at done...