Our Story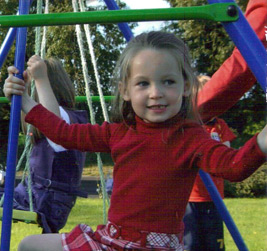 The Aoife and Aine Kennedy Memorial Fund was set up in November 2007 after the death of Aoife aged 5 and a half years. Aoife was killed in a road traffic accident on Carnew Main Street on November 5th 2006. She was pronounced dead on arrival at Wexford General Hospital after lying on the street for 45 minutes waiting on an ambulance. She had broken ribs and a C1 fracture to the back of the head (broken neck) from impact. As you can imagine, our lives came crashing down around us, as we as a family struggled to deal with her death.
Aoife was a fun-loving child and a child of simplicity. She was very practical and always thought of others before herself. She loved butterflies and roses thus, roses are carved on her headstone.
Aoife's death inspired us to fundraise in her memory and help save a child's life through the purchase of hospital equipment.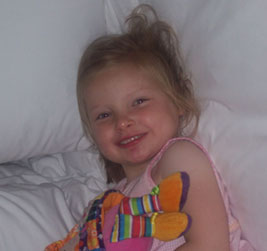 In April 2010, tragedy struck our family again as we lost Aine after almost a 36 hour fight for survival. Aine died on April 27th 2010 of culture negative sepsis triggered by a febril seizure during the night which eventually led to multi organ failure and her death at Crumlin Children's Hospital in Dublin. Aine was also 5 and a half years old with a history of epilepsy and was diagnosed at 3 and a half with autism. Aine was added to the charity and fundraising was done to help autistic children in her memory. Aine had travelled a lot of the world and had medical treatment done in Baton Rouge with bio medical and then in Qingdao, China with stem cell treatment.
Aine was a very happy child and will be remembered for her infectious laughter and giggles. Aine attended St. Senans Primary School autistic unit for almost two years and left quite a gap in a lot of people's lives. She had a passion for music, in particular Westlife, Boyzone and Christy Moore. Her two favourite pieces of music – "The Rose" and "Ride On" – were sung for her at her funeral.
The memory of two little angels live on in our hearts and their charity helps save another child's life. Our children are precious and especially a special needs or sick child as they need our care and support.
If you are interested in helping us out, you can find more information on our events, where your donations go and ways to help on our fund raising events page or if you wish, you can make a donation online.
Thank you for your continued support and generosity, it's greatly appreciated and makes a huge difference to the life of a sick child.