Posted by AoifeAine
Presentation To Wexford General 2011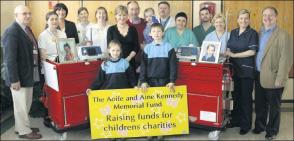 Two resuscitation trolleys were presented to Wexford General Hospital early in 2011 in memory of little sisters Aine and Aoife Kennedy.
Funding for the beds was raised at the annual Halloween Ball in Kenny's Pint Depot in Carnew last October, and €3,300 was invested in the equipment which was badly needed in the ICU and St. Gabriel's children's ward. The beds were handed over by the girls' parents Caroline and Matt.
Caroline said it was a proud moment for them, saying they hoped the equipment would help save another child's life. They thanked the people of Wexford and Wicklow for their support.
Their next fundraiser is a concert in Enniscorthy on the first anniversary of Aine's passing.
Aine Kennedy died suddenly on April 27, 2010, of suspected negative sepsis, at the age of five and a half.
Aine's older sister Aoife was killed in a traffic accident in Carnew village on November 5, 2006.
Aine attended the Autistic unit at St. Senan's school in Enniscorthy.