Posted by AoifeAine
OT Unit Dedicated To Aoife 2009
A Specialised Occupational Therapy Unit at St. Senan's Primary School in Enniscorthy was dedicated to the memory of Aoife Kennedy on December 5th, 2009.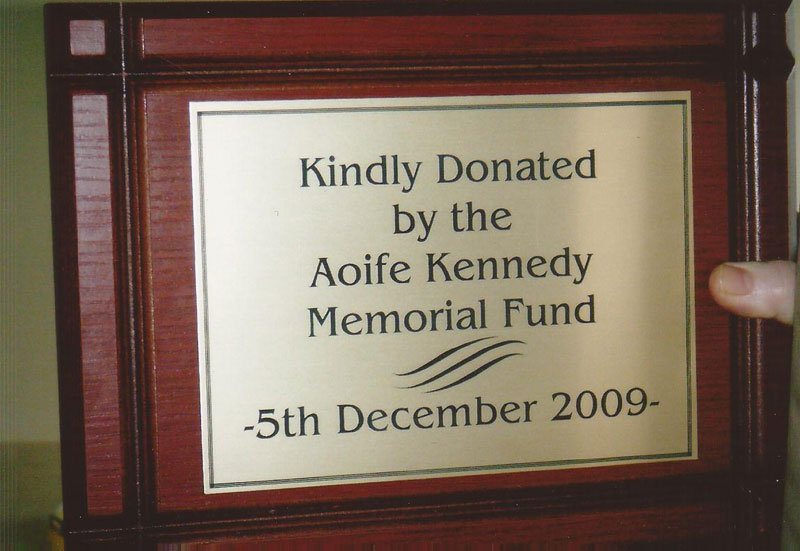 The parents of the late Aoife Kennedy set up The Aoife Kennedy Memorial Fund in her honour and held a Halloween Fancy Dress night in Kenny's Pint Depot, Carnew in October.  €6,000 was raised for the Cottage Autism Network (CAN) and St. Senans Primary School Autistic Unit in Enniscorthy.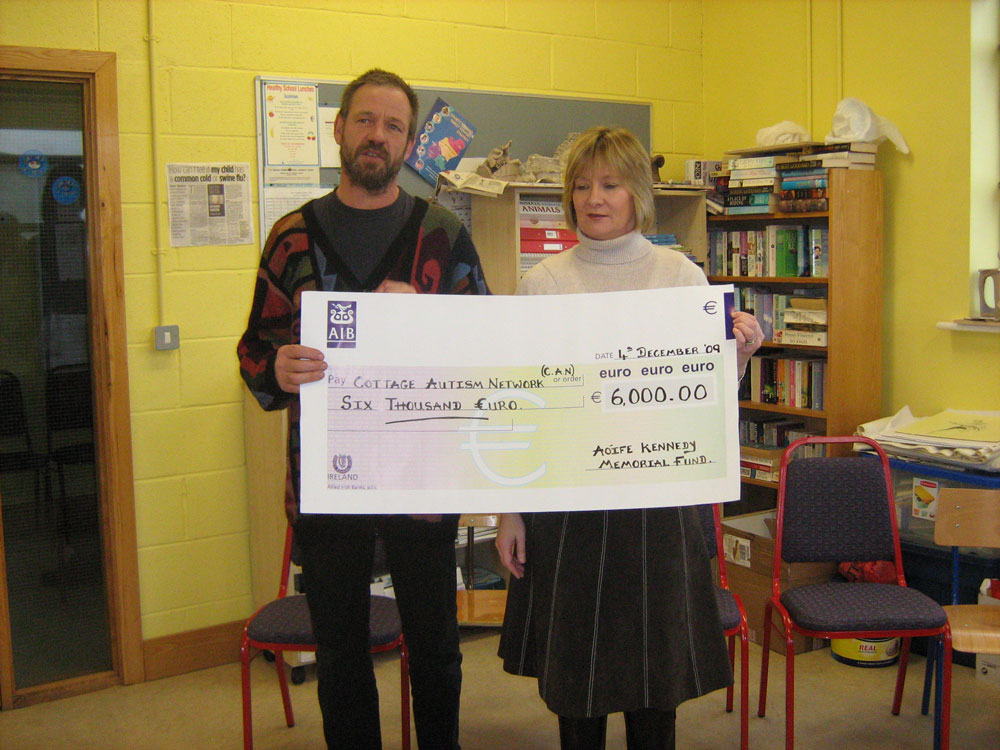 The proceeds went towards the purchase of Occupational Therapy Equipment for children with Autism which is costing in the region of €26,000.
The hardworking parents at the school have been raising funds locally for the equipment and they were delighted to receive the financial boost.
Accepting the cheque, Servaas Dobbier, Chairman and founder of Cottage Autism Network Wexford, stated that "the generosity of people in the Wexford area has always been to the fore and we want to thank them for their continued support".
Dr. Henry Goff, Principal of St. Senan's Primary School, Enniscorthy, acknowledged the work that has been done over the years by the Parents' Committee with all their fundraising efforts. In particular, he thanked Caroline and Matthew Kennedy, Ballyellis, Carnew, for their support and generosity through the Aoife Kennedy Memorial Fund, and for their wonderful donation.
The Kennedys thanked everyone for their help and support with the fundraiser and their hardworking committee of:
Ailish and Mary Walsh, Donishall;
Colm Moules;
and all those who supported the venture and to all the businesses for their generosity.
Due to the phenomenal support it is hoped to make this an annual event in order to help other deserving children's charities and keep the memory of an 'Angel' alive.
The Parents Committee of the Autistic Unit of St. Senan's Primary School, Enniscorthy, presented Caroline and Matthew Kennedy with a special plaque in memory of Aoife, to acknowledge their fundraising efforts. The Occupational Therapy unit will be dedicated to her memory.