Posted by AoifeAine
Hospital Gets Incubator 2008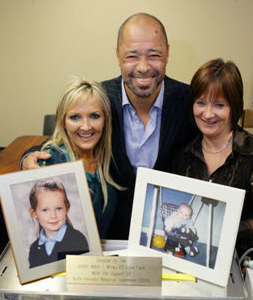 The memory of five year old Carnew child, Aoife Kennedy, was honoured last week when a vital piece of medical equipment was donated in her name to Wexford General Hospital.
Former Irish international footballer Paul McGrath was one of the celebrities on hand to see a neonatal transport incubator donated to Wexford General Hospital.
He joined actor Maclean Burke, who plays Damien in Fair City, and players from the Wexford hurling and football teams at the donation of the incubator, which will ensure that babies are kept in a safe environment while they are being transferred from one hospital to another.
The incubator, was donated by Caroline and Matthew Kennedy who lost their daughter in a road accident, along with the Baby Max Wings of Love Fund.
Caroline and Matthew wanted to do something in memory of their daughter Aoife, who died after being struck by a car in November 2006 when she was just five years old.
Following her tragic death, her parents organised a fashion show in Wexford in her memory and raised €13,500 towards the transport incubator.
The Baby Max Wings of Love Fund put up the rest of the funding for the incubator which cost €70,000.
The fund was set up by Darina Ni Chuinneagain and Declan Donnelly after the death of their son Max from meningitis B and meningococcal septicaemia.
To date the fund has purchased almost €1m of vital medical equipment for the Dublin Children's Hospital and paediatric units nationwide.
The incubator will provide a vital service because with the increased pressures within maternity services, there is a growing need to transfer babies from one hospital to another.