Posted by AoifeAine
Conor Leads Liverpool Legends 2009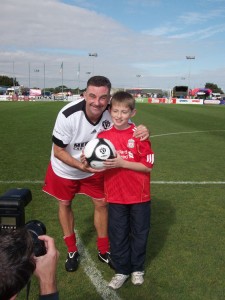 Eleven year old Conor Kennedy got to meet his football heroes when he led the Liverpool Legends team out at Carlisle Grounds in Bray.
Conor is a fifth class student in Carnew National School and through his family's work with Irish Autism Action, was mascot for the Liverpool Legends team.
He led the team onto the pitch and also got to sit in the dugout with the players throughout the game.
All funds on the day went to Irish Autism Action and the Lauralynn Children's Hospice Foundation.