Posted by AoifeAine
Annual Halloween Ball 2010
Magic, mystery, fun and party games were the order of the day in Kenny's Pint Depot, Carnew, for the annual Aoife and Aine Memorial Fund Halloween Fancy Dress Ball.
Undaunted by the bad weather people turned up in large numbers kitted out in fancy dress to support a great night, all the proceeds of which were in aid of CAN (Cottage Autism Network), Wexford and the ICU Unit at Wexford General Hospital.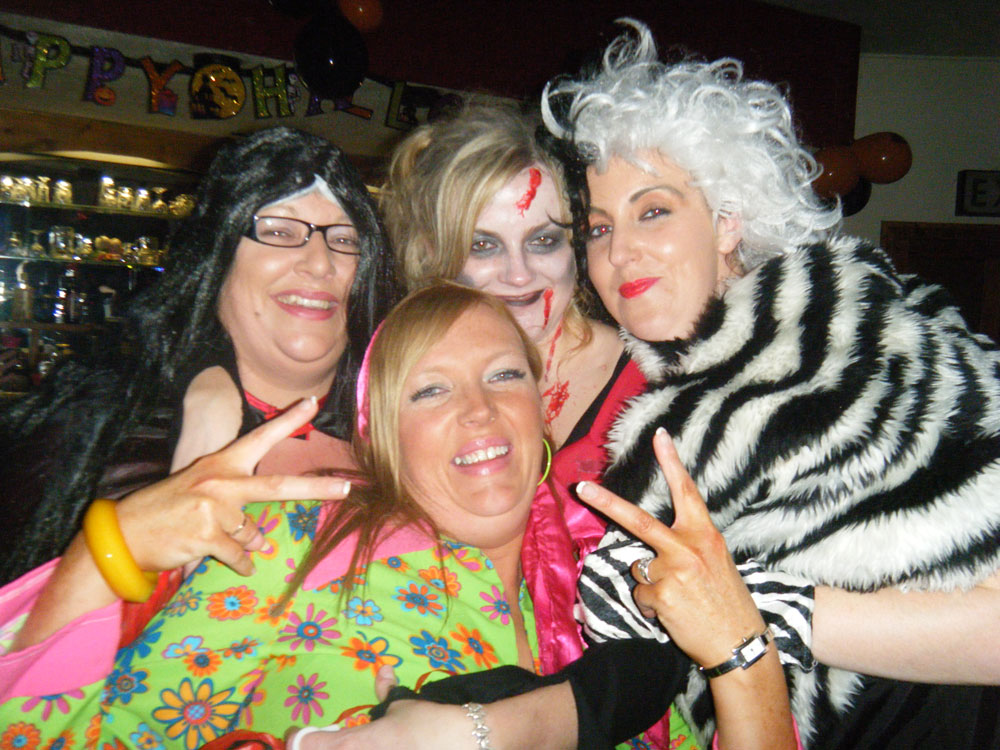 The monies raised will help in the funding of an occupational therapist that costs in the region of €50,000 per year, educating Autistic Children and towards the purchase of a Chair Bed in ICU in order to stay with a patient in Intensive Care at Wexford General Hospital.
There were hilarious costumes and revellers enjoyed the music of Ireland's number one, Elvis, Cathal Byrne, from Gorey, with one hit after another, keeping the dance floor full all night.
Another class act, Croneyhorn Variety Group from the Carnew area had people in stitches with their sketches and wit.
Local DJ, Pat Fleming, topped off the bill with hits from the sixties upwards and kept people entertained into the early hours.
Adding a touch of class to the night, were members of the Wexford All-Ireland winning camogie team of 2010 who made a special visit with the O'Duffy Cup.
Many thanks to the players Josie Dwyer (Ferns), Aoife O'Connor (Rathnure), Joe Brennan (Gorey), selector and J.J. Doyle (Marshalstown), team manager, for making the trip up and taking time out of their busy schedule and celebrations, after winning the All-Ireland title.
Congratulations to all those who turned up in fancy dress going to a lot of trouble and effort to help everyone enjoy themselves. The night itself proved an outstanding success.
A monster raffle was held with a range of wonderful prizes donated by businesses from Carnew, Gorey, Enniscorthy and surrounding areas. Many thanks to all who donated prizes for the raffle, and for their kindness and generosity.
The winners were from all corners of both counties, Wicklow and Wexford.
Aoife Kennedy's Fund was set up by her parents, Caroline and Matthew Kennedy, Ballyellis, Carnew, following the untimely tragic death of their daughter on November 5th 2006, on the Main Street in Carnew.
It was renamed the Aoife and Áine Kennedy Memorial Fund after Áine died suddenly from suspected meningitis on April 27th 2010, at the age of 5-and-a-half years.
It is envisaged that this will be an annual event and already plans are being drawn up for next year following the success of this event, now in its second year.
A special word of thanks to the small committee made up of: Caroline and Matthew Kennedy, Colm Moules, Ailish Walsh, and Mary Walsh who put in trojan work to ensure the success of this event.
Thanks also to Aishling Walsh, Kathleen McAllister, Glen Smyth, Venie Mullet and Fiona Carton for all their hard work also in the lead up to the event.
Kenny's Pint Depot, Carnew, came in for special mention as they made the premises available for the event, especially Liz and Ann.
Kinsella Print & Design, Gorey, were very generous in sponsoring posters, tickets and the raffle tickets for the event and the committee would like to thank Joe for all his help and time in this respect.
A final big thank you to South East Radio & The Gorey Echo for the coverage of the event.